sold out !
Tropical noise
Tropical noise.
Tropical noise . It's an experimental oscillator. That you can control the pulses and the sound.
By changing the electronic compartment "the capacitors".
There are two places on the front plate where you can change the capacitors. You can also put them in series to have different sounds and different melodies.
Because the capacitors have different values you can play with it. Different values has different sounds. There is the possibility to use the tropical fish capacitors.
The tropical fish capacitors has a special fat and deep sound .
This electronic compartments are hard-to-find, it is also called the vintage capacitor, some of them come of the year 1950 / 1960. it comes with a bag of 20 different capacitors that you can mix.
In the bag you will find the old ones like the vintage colours, but also new one we use these days

There is a special knob It's the micro noise . It's a special knob . to find a Sweet spots . It's really sensitive it can turns 10 times.
There is a glitch matrix mixer What gave the possibility for different sounds in the oscillator you can make a lot of variable pre-sets by using three switches in different ways.

CV / Trigger / Gate in
You can use the trigger or control voltage input To make Short sounds or a strange bleeps.
Use the micro noise knob for the offset if you are using CV/Trigger/Gate in.

this model is made in a limit addition of 50it comes with a bag of 20 capacitors to play around
More information see the demo on the site:
size 11HP
WWW.ERRORINSTRUMENTS.COM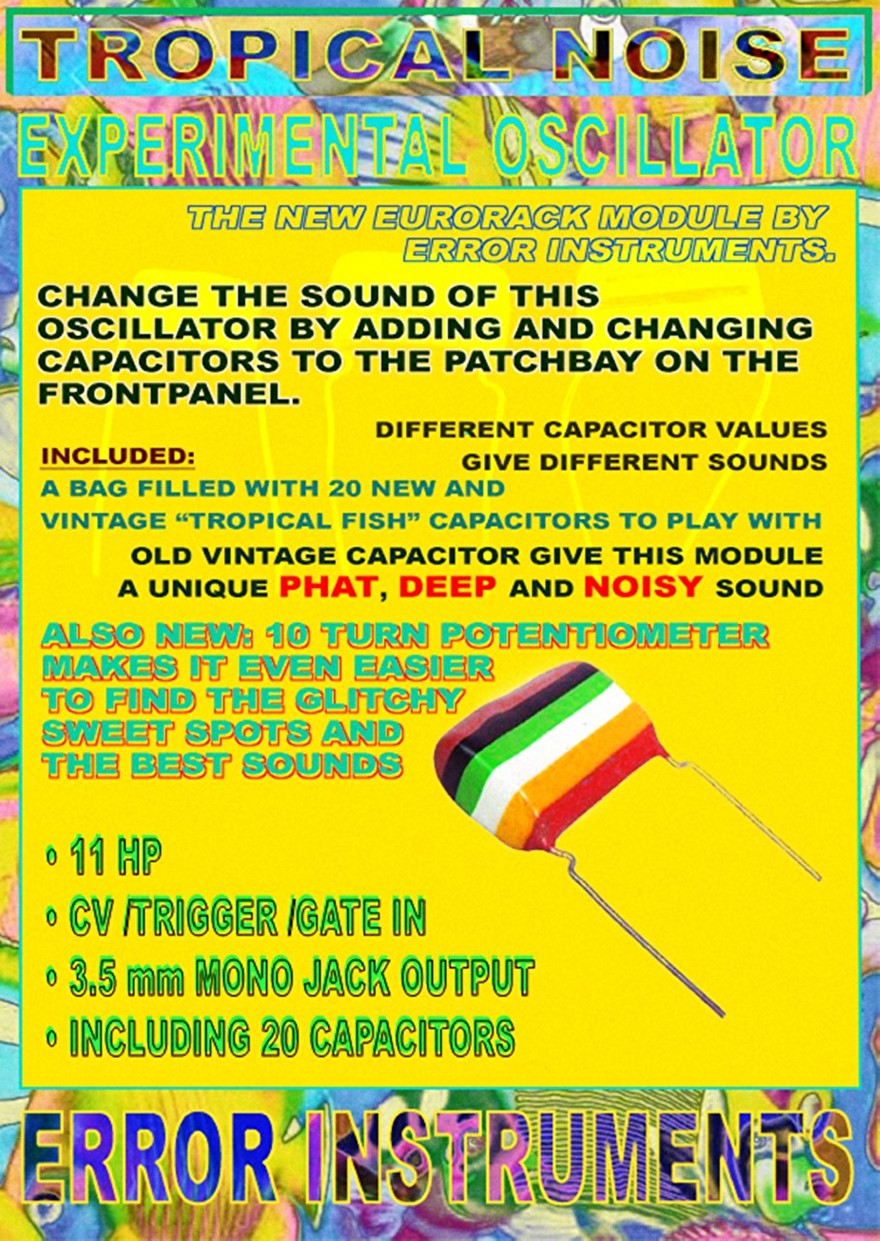 customers who use this module so much love
------------------------------------------------------------------------------------------------------------------------
Hi Paul,
I received the tropical noise safely today. I just wanted to let you know how glad I am that I finally got the chance to try this thing - I really mean it when I say that I think this module is a masterpiece. The interactivity is unique in eurorack and the sheer range of sounds and possibilities are amazing. Congratulations and thanks! I'm going to be patching with this for a very long time.
All the best,
Edward
---------------------------------------------------------------------------------------------------------------------------------
Date:Jul 12, 20188:56am EDT
Message:Ok so I plugged it in and have been playing with plugging things into the front panel and its quite fantastic! All good, I could see where I might want another one before the end of the year
----------------------------------------------------------------------------------------------------------------------------------