NEW !!BEAST-tek. moduler
BEAST-TEK unique hand-crafted super lo-fi, glitch or noise eurorack modules. Breathe new life into your eurorack modular with brand new experimental sounds that haven't been heard before!
4 different modules in different series
as
Dirty Glitch VCO
Glitch VCOs
Alias VCOs
state Machine
​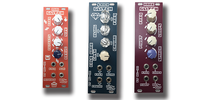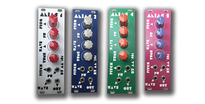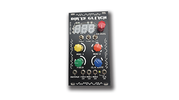 -11%

Hyper Fist VCO Plutonium 239

drone / wave / glitsh

​Plutonium 239 Hyper Fist VCO

The Plutonium-239 Hyper Fist is a post apocalyptic wave table VCO with a resonant lo-fi feedback delay that can produce screechy spacey drones, wild glitches in addition to…

€ 269,00 € 239,00

-8%

Dirty Glitch VCO

Dirty Glitch VCO

910x various experimentalists sounds algorithms
90x more basic lo-fi VCO wavetable sounds
The DirtyGlitch is a high experimental VCO harnessing grain table synthesis driven through dual glitch engines to produce…

€ 259,00 € 239,00

Glitch Drum ! Irukandji

The Irukandji Glitch Drum

can be used as a drum module (using an external trigger source), a free running oscillator or even a complete lo-fi synth voice when trigger in and Freq CVs are connected to a keyboard controller or…

€ 259,00

-18%

bus boards discount pack 4x only 99euro

discount pack 4 x 99euro

Our custom busboards feature 20 shrouded headers that prevent accidental reversed connection of modules, LED status indicators for each rail, and easily accessible screw terminals for connecting to your…

€ 120,00 € 99,00

Rich Glitch VCO

∙ Home
∙ Sales/Contact

Rich Glitch is an experimental 8bit granular VCO that harnesses multiple controlled software glitches feeding back into each other to produce some wild sounds. The process starts with 2 separate 1v/oct…

€ 125,00

-20%

100x antie rack rash screws ! BLACK

for euro rack 100x 3m antie rack rash screws hard nylon quality
better for travels with your suitcase and vibration loosening. beautiful.
solid screws

Size: M3

Material: Nylon66

Nylon fasteners are favoured especially in such…

€ 10,00 € 8,00
Offers
C_Quencer by centrevillage.
€ 199,00
€ 179,00
Guestbook
01-05-2018

- I bought this synth on a whim. Turns out to... 

read more

01-05-2018

- Good contact mic. I will definitely be buying more at... 

read more

25-11-2017

- Hoi Paul,

Acid delay komt die ook met een wood panel?

Zou... 

read more
New message